This is what's coming up next: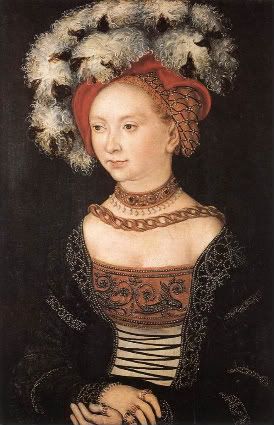 I've been planning on recreating this dress for a looooong time, and when I heard that Midwinter Feast this year has a decadence/excess theme, I figured that it was now or never :) That beading is going to take me ages! I've had the black velveteen lying around for a couple of years now, so I'm really glad I'm finally going to put it to use. I have everything I need for the dress, and this is what it has cost me:

~10m Black velveteen: $80 (bought on special a few years ago when velveteen was still cheap to start with)
~5m red velveteen: $55 (bought on special a week or two ago)
~LOTS of plastic pearl beads $40 (I know, I know, plastic is icky, but I found some that are a nice colour and don't look too bad, and seriously, I couldn't afford glass ones in that quantity let alone real!)
~1.5m cotton drill for bodice inter-lining: $1.50 (bought on special- it's hideous pink!)
~3m black calico for lining bodice and sleeves: $12
~6m white voile for chemise and puff/slashes: $24
~Black and red thread - already have them, so it feels like they're free :) I'll probably need more before it's over though.
~brass lacing rings: approx. $10
~black ribbon for lacing up: $2

... So the dress is costing me about $225. If I'd bought all that fabric full price today, I shudder to think how much more it'd be.

I will also need some white feathers for hat decoration and some gold or orange silk for the caul. That will almost certainly push the overall cost over $250...

Yikes. I could never have afforded all this in one hit what with being an impoverished student and all, so I'm really glad I've been planning this for a while!