I got a really cool skirt for Christmas, but didn't have any tops that went with the colours.

These are what I came up with:

1. Purple top.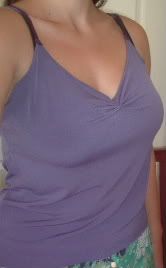 It wasn't sitting right at the front, and it was a bit plain, so I put a gather in. The straps are pretty cool too :)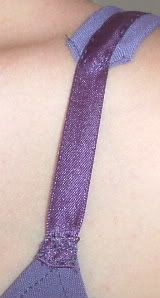 Not a particularly brilliant effort, but I still like it.


2. Green top.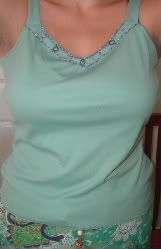 . .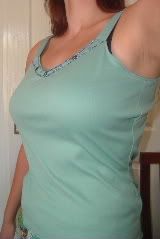 The beading left a bit to be desired, and for some reason I can't figure out this one keeps slipping to the left. Maybe one of the straps is fractionally shorter than the other? Maybe I didn't get the side seams perfectly symmetrical? It's irritating, but it's nothing a safety pin at the base of the strap won't fix.


I also started making a blue sleeveless thingy in a completely different style, not to go with the skirt, but just because I wanted it. I can't find the buttons I bought to go on it though, which is pissing me off to no end cause I was nearly done.

I have also bought black and silver sequined fabric, light green cotton crepe, and some light blue polycotton blend with flowery embroidered bits... and I don't know what I'm going to do with them. I'm sure I had ideas at the times when I bought them, but now I haven't a clue!

Last day of holidays, so I ought to try and make something out of them now so I have clothes for uni.