Warning: Many images.

One of these days, I'm going to have to do a pattern drafting course. In the mean time, I seem to be muddling along okay :) I'd never have got as far as I have if I hadn't found cutting diagrams for Mary of Hungary's wedding dress:

http://www.virtue.to/guest_authors/hungarian.html

I've had a big sewing day today. I started out by checking the cutting diagram actually had everything in proportion by making a little paper cut-out version of the bodice...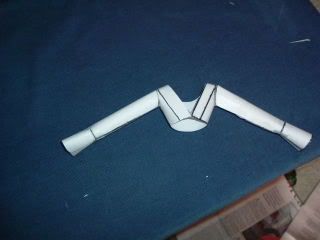 Okay, I probably didn't need to do that, but it was fun anyway. I almost wish I had a Barbie to dress in it.

This dress is a bit different to the one I'm making- my finished dress should look a little something like this: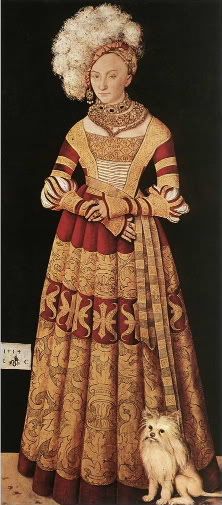 .

So, using a huge old Christmas tablecloth that was never going to see the light of day again for my mock-up, I spent most of today measuring, re-measuring, cutting, stitching, unpicking, re-stitching, and generally fiddling around until I got it kinda right. The best part of today was when I realised I was finished. Well, mostly, anyhow.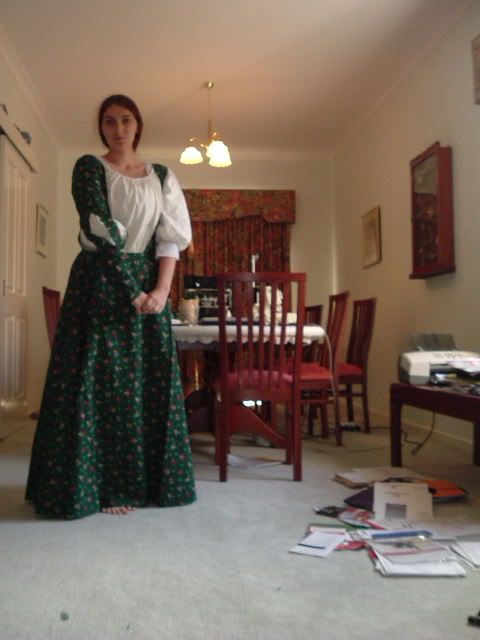 As you can see, the mock-up only has one sleeve. The wonderful thing is, I don't need to make another- the joy of symmetry, and all that. One pattern piece will suffice. This is enough to let me know I've got the pattern right.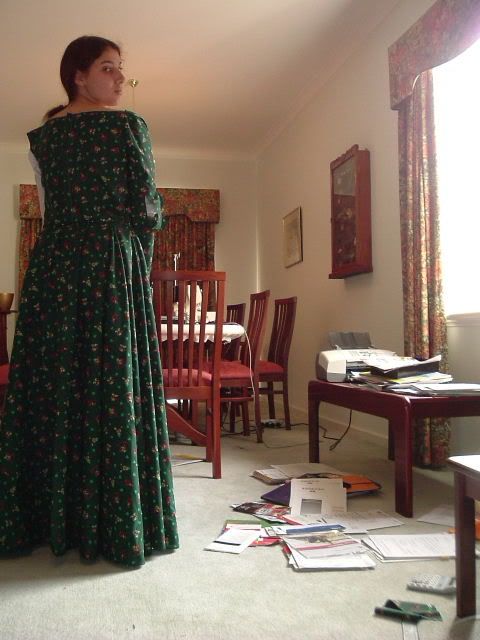 (I took this one before I thought of putting my poofy shirt underneath; otherwise, the sleeves would look darn cool in this shot.)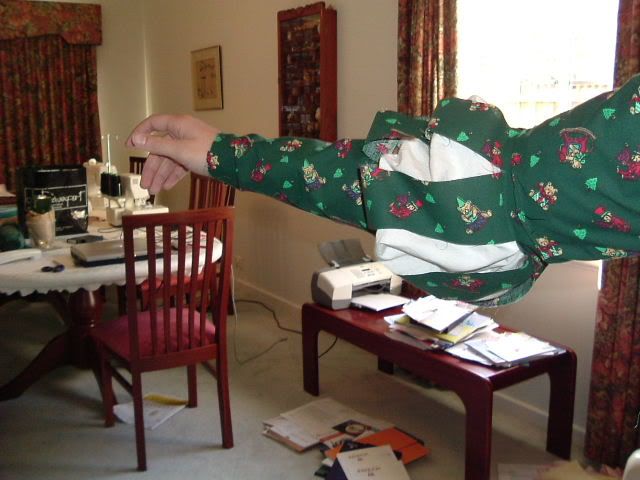 And a close-up of the wonderful sleeves, with poofy shirt underneath. Don't laugh too hard at the hideous Christmas print fabric.


This has been an absolute joy so far. It's a much easier pattern than I'd originally thought. I'm also pleasantly surprised at how easy the sleeves were. Something I hadn't previously thought about was that the puff/slash sleeves mean you don't have to tailor around the joints- YAY! Makes life a whole heap easier.

Another plus is that it's used a lot less fabric than I thought it would; approximately 6m has gone into this, total. I'll need a bit more than that (the skirt is short- look, toes!). But it's not so astronomically huge that I'll be broke for the next 10 years.

Tomorrow: starting on making a proper blouse to go underneath, and possibly fabric shopping for the Real Thing.